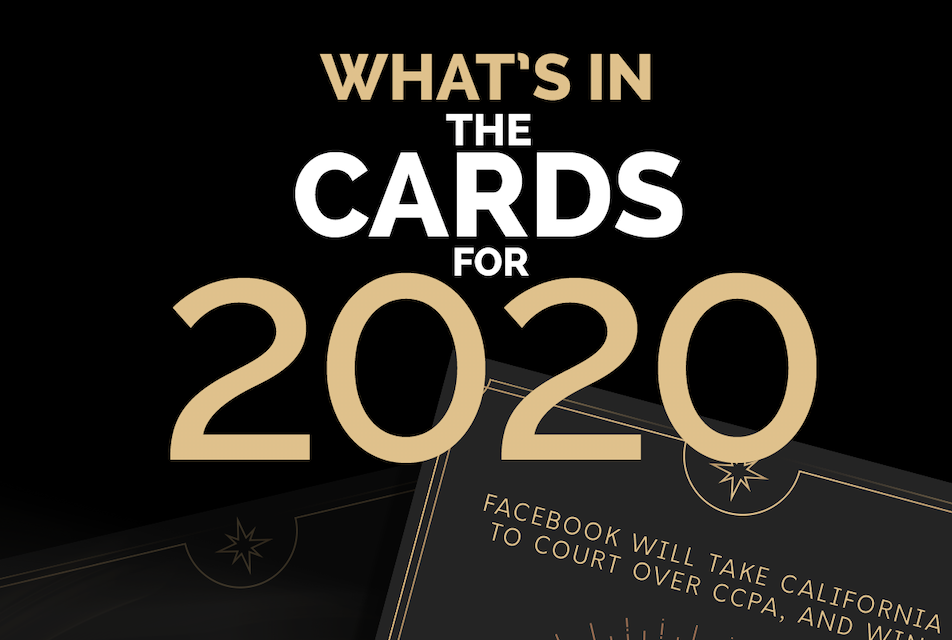 Each year, OWI puts together our predictions for the year ahead in identity.
After recuperating from the holiday season, they took a moment to reflect and check in on the predictions they made in 2019. 
They saved the best predictions for last and let everyone else take a stab at it first – and you're in for a treat; these might just be the most controversial yet.  
1. A new wave of identity startups emerge to focus on credential re-use
The federation of digital identities is poised to take a big step forward in 2020, with nascent identity ecosystems taking shape in tech, financial services, and government sectors across the globe. Expect increasing startup activity to capture the needs of this new market, from both a technical and implementation perspective.
2. Big tech companies force traditional IAM companies to innovate or become redundant
What do FedEx and Ping have in common? Partnerships with Amazon to solve key platform challenges, and a strong risk of being "featurized" as their core competency becomes a value-add included as part of a recurring revenue subscription. Leading IAM companies will be pushed to deliver new features as the "free" identity management solutions offered by big tech continue to improve in quality and functionality.
3. Public Cybersecurity firms outperform in 2020
Buoyed by escalating geopolitical tensions with China and Iran, and cyber warfare's prominent role in the 2020 Presidential Elections, cybersecurity stocks will outperform in 2020. Multi-factor authentication and endpoint security solutions will reach true ubiquity, as the cost and skill required to deploy nation-state caliber cyber weapons continue to drop.
4. Facial biometrics become part of our everyday lives – at home, at work, and on the road
With Apple's 2017 introduction of FaceID serving as many consumers' real-life introduction to facial biometric authentication, 2020 will be a breakout year for direct use of facial recognition technology. From corporate adoption of smartphone multi-factor auth, to biometric airplane boarding gates, and retail loss prevention, expect the application of facial recognition to proliferate.
5. Privacy regulation, and consumer adoption of privacy-preserving "do not track" browsers will create a new breed of identity graphing companies that rethink digital advertising
Regulations like CCPA and GDPR, along with Safari and Chrome's slated blocking of third-party cookies, are set to fundamentally redefine the digital advertising landscape in 2020. Look for the emergence of the next generation of identity graphs to fill the demand void for targeted advertisements created by the death of the cookie as we know it.
6. The collection and monetization of consumer health and DNA data will continue unabated, despite strong user opposition
23andMe selling the rights to a drug developed using their customer's DNA is just the tip of the iceberg. Big tech and healthcare firms will spend billions of dollars in 2020 to collect vast data sets of patient records and genetic information for monetization through advanced analytical techniques. While consumer sentiment towards these activities remains negative, dysfunction in Washington will stymie meaningful regulation to address this growing use case.
7. Ultimate Beneficial Ownership remains a challenge unsolved
Consumers and enterprises alike have benefitted from the massive UX and efficiency gains of digital onboarding flows across the financial services sector. While "Know Your Business" became a buzzword in 2019, breakthroughs in cutting down on highly manual processes for onboarding enterprises and verifying beneficial ownership of corporate entities will remain elusive in 2020.
8. Digital identity companies go physical while physical identity companies go digital
2019 witnessed the convergence of the Identity and Access Management sector with the Customer Identity and Access Management sector. 2020 will usher in the beginning convergence of physical and digital identity solutions, as both vendors and enterprises recognize the benefits of shared identity infrastructure across all user types and use cases.
9. European Union regulators issue a GDPR fine over $1B
The lack of a "head on a stick" regulatory enforcement action from European Union data protection authorities came as a surprise to many in 2019 after GDPR and data privacy dominated the headlines. We predict 2020 will bring the imposition of a landmark fine of $1B or more, as regulators gain their sea legs and crackdown on many of the GDPR violations identified by researchers.
10. Facebook will take California to court over CCPA, and win
The vaunted California Consumer Privacy Act took effect on January 1st of this year, yet Facebook has forged ahead with the implementation of its Pixel web tracking platform. Why? Because they've identified a critical loophole in CCPA: they don't sell your collected personal information, but instead, sell advertisements targeted based on your personal information. We predict Facebook will take California regulators to court over CCPA oversight, and win, with this key semantic distinction as their primary ammunition.
11. Apple Launches an Identity Product at WWDC 2020
From the iOS wallet app's ability to store credit cards, boarding passes and loyalty cards, to the 2019 launch of Apple's "Sign in With Apple" SSO offering, Cupertino's finest have been slowly building towards a complete digital identity stack for years. With a renewed marketing focus on consumer data privacy bolstering Apple's position as one of the most trusted brands in tech, OWI expects Apple to make the plunge in 2020 and announce a vertically-integrated digital identity product at WWDC. Expect the ability to remotely perform document-based identity proofing, with verified identity attributes stored in your Apple Wallet, and federated through "Sign in With Apple" with user-centric data privacy controls.
By Team OWI – January 27, 2020