Integration and Customizations
✓ Photolok available as a passwordless IdP for Okta Workforce accounts.
✓ For customer branding, Netlok can customize the photo library with customer supplied photos.
✓ For customers with multi-domains, Netlok can integrate Photolok for single or multi-tenant use.
✓ Photolok can be integrated as a second factor to prevent a compromised biometric, like facial recognition, from allowing access to destination.
✓ Photolok authentication uses OAuth 2.0 and Open ID Connect — Customers that use Open ID Connect can use their current apps and APIs.
Simplifying the Login Journey
✓ Photos are easy to remember, select, and replace.
✓ Frictionless — point and click navigation with autosave simplifies using Duress and 1–Time Use security photos.
✓ Photos simplifies adoption by employees and consumers — no language and literacy barriers.
✓
Personal Choice and Privacy — thousands of photo to choose from enhances personal security and privacy.
Frictionless, Passwordless IdP
Enter your email, access code, click your photos ... And you're in.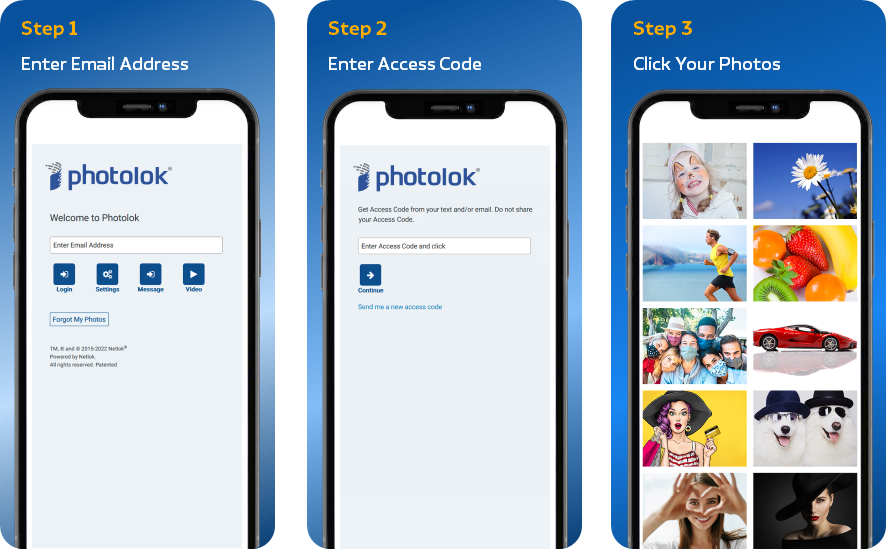 Netlok is a Gartner Emerging Tech company.